Emilia-Romagna and Cantabria, the best European destinations in 2018 selected by Lonely Planet
May 24, 2018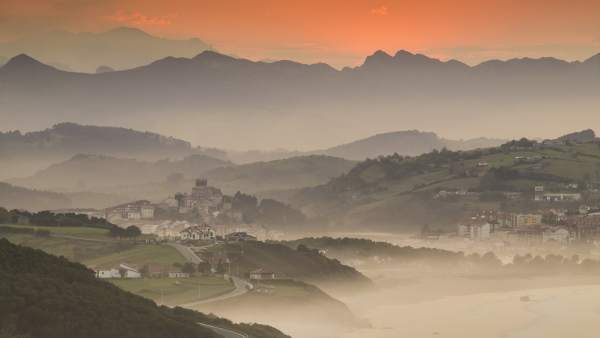 San Vicente de la Barquera, in Cantabria. JAVIER FERNÁNDEZ / GETTY (Given by Lonely Planet)
Lonely Planet, the famous international travel publisher, has published its Best in Europe 2018 list and has chosen Cantabria as the second European destination to visit and meet in 2018, just behind Emilia-Romagna, in Italy.
The publication has taken into account that the autonomous community is a green rugged land with contrast between its sandy beaches, the mountains wrapped in haze and the villages full of charm. Lonely Planet has especially valued the revitalization of its sea front with the new Botín Center and the new communications by ferry with other European destinations.
In addition, there is an honorable mention of an "amazing backdrop" such as the Picos de Europa, the oldest national park in Spain that celebrates its centennial in 2018.
In the first place, the content editor has placed the gastronomic journey to Emilia-Romagna, a region of northern Italy much less chosen than others closer such as Tuscany or the Veneto. Lonely Planet emphasizes that it is the cradle of ragù, Parma prosciutto, balsamic vinegar and Parmesan cheese and its gastronomic legacy is exhibited at the FICO in Bologna, the largest culinary theme park in the world.
A multicultural list
The list has in third place the province of Friesland, in the Netherlands and, especially, its capital, Leeuwarden. They continue, in fourth and fifth place, Kosovo and La Provence, respectively.
The rest of the positions occupy them, in descending order, Dundee, in Scotland; the Lesser Cyclades, in Greece; Vilnius, the Lithuanian capital; the Vipava Valley, in Slovenia; and, finally, another capital, Tirana, of Albania.
The spokesman and editorial director of Lonely Planet, Tom Hall, has indicated that this list is "for anyone who wants to avoid crowds this summer in Europe." It also revealed that its "travel experts" had traveled the continent to find and discover "the most prominent places, little valued and often overlooked but right now worth exploring".
The authors of Lonely Planet have been exploring the corners of the planet for 45 years in search of hidden gems and new traveling experiences. This has been the sixth edition of the Best in Europe list.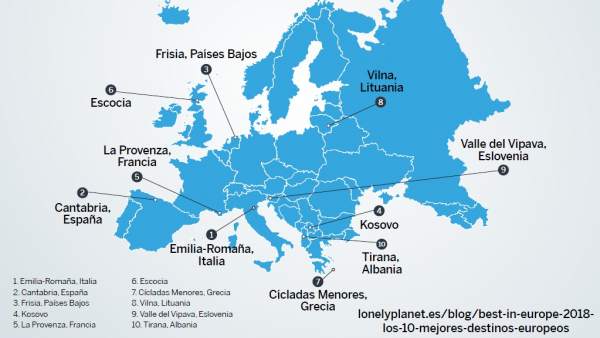 Viajes
https://www.20minutos.es/noticia/3347454/0/cantabria-segundo-mejor-destino-europeo-2018-lonely-planet/
20MINUTOS.ES
Please follow and like us: