Insider beds: Maison Nô, in Lyon
October 31, 2018
BEDS OF INSIDERS – This new issue of the hotel chronicle of Figaro.fr/voyages, shares the discovery of an atypical four-star, recently opened in the old capital of Gaul.
In the heart of Lyon, the hotel is the last of the four stars of the old capital of Gaul. In this neighborhood close to the Place des Terreaux, the Maison Nô is located almost at the corner of the Rue de la République which was under the Second Empire Imperial Street. A symbol of Lyon's opulence at that time, the today pedestrianized artery is lined with monumental architecture. That of banks and their prestigious headquarters. That of the late Lyonnaise de Banque welcomes this atypical hotel whose lobby occupies the trading room.
A small fitness and a good size sauna were installed on the ground floor whose decor was inspired by the place, including a vaulted room revisited by a very contemporary design. Let's go upstairs. Our room (n ° 37) opens onto a patio where nothing is missing. Computer with printer, library and ultra comfortable chair allow a real relaxation close to his room. It is immaculate, simply but effectively furnished with some finds such as the Nomad lamp of the Lyon designer Rémi Bouhaniche, author for the Roset line of a famous Toa chair whose copy stands in the lobby.
XXL view of the city
The lamp is like a compact lantern that hangs next to his bed, on the desk or even on the floor … This is the concept, to see more clearly. Real storage furniture, an ultra-slim internet connection, a high-definition flat screen and a grinding coffee machine (goodbye to the Nespresso and its outdated capsules) add to the comfort of this on-street room.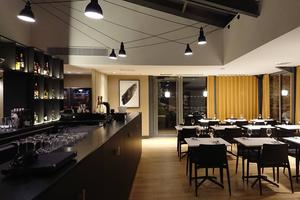 The ultimate hotel is on the sixth floor reached by a staircase whose decoration has been entrusted to the cream graffiti lyonnais. Rather successful. Prelude to a roof top, with an XXL view of the city, its roofs and hills Fourvière and Saint-Just. A restaurant (around fifty euros) and a bar are installed there. In the morning you can have breakfast there. In his decor, the whole lack of this little bit of madness that would tear a "wahooo" to visitors. Contemporary rather than trendy, classicism eventually prevails. What we regret a little because the place lent itself to other extravagances. But in Lyon nothing pleases more than what does not show itself. Ah !, the pleasant wisdom of Lyon …
Let's go? 11, rue du Bât d'Argent (1st), tel .: 04.81.13.21.90; www.maisonno.com
At what price? From 95 € to 800 €.
You can also follow Le Figaro Voyages on Facebook and Instagram.
LeFigaroSource link
Please follow and like us: