The Monte Cristo Hotel in Paris
October 9, 2018
New appointment of our hotel chronicle. Addresses freshly inaugurated, spotted by our teams to the end of the world, we tested them for you. For this second issue, we stay in Paris with a new five-star hotel Monte Cristo.
When we talk about thematic or literary hotels, we are certain of one thing, it is usually quite missed, consequence of a decoration often very anecdotal. With the hotel Monte Cristo, which has chosen to recreate a universe worthy of the hero of Alexandre Dumas, it's the opposite.
Near the Pantheon where the great man rests, this new five-star establishment opened before the summer. He chose the Second Empire and its profusion of trinkets, paintings, beanbags, fringes, velvet and orientalism, to claim a rather successful decorative bias. It's hard to speak in detail about the 70 rooms, as they are all different in a mix of vintage objects, wallpapers or fabrics that make the pupils party. Ours, No. 601, located on the 6th floor, is a concentrate of Second Empire which we find all the codes.
The wallpaper, the trompe-l'oeil of Oriental carpet covering the walls, is an illusion. The book shelves in the library, all of Dumas' work, almost invite us to forget the only contemporary element of the room, the flat screen, which we do not want to light anymore, for fear of breaking the atmosphere. Green plants garnish planters in Chinese chinoiserie beautiful. In the bathroom, a 19th century tile, vases and faucets vintage, does not detract from comfort. The Monte-Cristo stamped products are wisely stored in a lovely little chest, like a gift from the past.
Tribute to the origins of Alexandre Dumas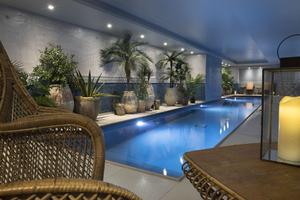 At the entrance of the hotel, a dark wood pharmacy decor, antiques, garnished the lobby and you have to go down to the basement to find one of the longest swimming pools in Paris, 16 meters, dominated at mid-term sauna. The whole is drowned with green plants.
But the surprise comes from the rum bar, tribute to the origins of Alexandre Dumas, open on the street, with 250 references and a bartender, John Mirval, specialist of this rather unknown alcohol. As this hotel has chosen to be relatable on the literature of the nineteenth century his bartender is a graduate, guess what? … A bachelor of letters at the Sorbonne … Alexandre Dumas would have loved! For us it is already the case.
Let's go? 20 rue Pascal (5th). tel .: 01.40.09.09.09; www.hotelmontecristoparis.com
At what price? From 180 to 450 €.
LeFigaroSource link
Please follow and like us: