Transportation time between two airports will be reduced to 1 hour in Istanbul
October 5, 2018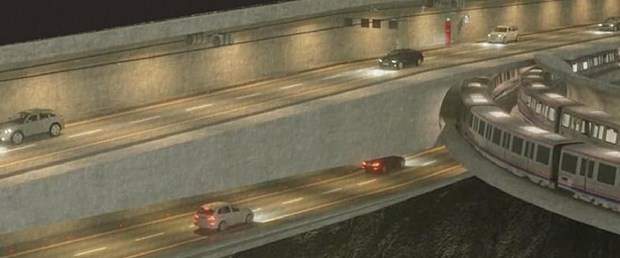 Ministry of Transport and Infrastructure General Directorate of Infrastructure Investments Rail Systems Production Department President Serdar Unsal, International Highways, Bridges and Tunnels Specialized Fair Large 3-storey Istanbul Tunnel Project and the key point of the two airports, which will provide the fastest access route, he added.
With the development in the project, Gayrettepe-Istanbul New Airport and Halkali-Istanbul New Airport metro lines Gayrettepe station Altunizade-Sabiha Gokcen subway line Altunizade station in the 3-storey Great Istanbul Tunnel that fully integrates Unsal, so that the passengers at any station without indi-bindi Sabiha Gökçen Airport, Istanbul New Airport, said that the direct access.
TRANSPORTATION TIME
The 3-storey Grand Istanbul Tunnel Project will reduce the transportation time between Istanbul New Airport and Sabiha Gökçen Airport to 1 hour. expressed that will connect.
Ünsal, providing information about the tunnel sections, 3-storey and 2-storey highway floors will be ventilated with the Jetfan system.
The fire fighting will be done with modern water fogging Unsal, section valves will be 1 meter at 25 meters, 1 meter hydrant cabinets will be 50 meters.
Ünsal stated that there are emergency pause systems that provide passage between all floors in every 200 meters and the emergency evacuation system along the tunnel and the emergency stop areas located at every 600 meters.
Depending on the parameters of the tunnel 2-section section longitudinal, 3-storey section of the semi-transverse ventilation emphasizing the Unsal, said the tunnel is the same size as the Eurasian Tunnel.
"THE PROJECT WILL REDUCE FUEL CONSUMPTION, GREENHOUSE GAS AND NOISE POLLUTION"
Ünsal said that the project would create a direct route of transport and a fast transit route between Asia and Europe.
The project, which will provide significant economic and physical benefits such as reduced travel time and increased reliability, will contribute to decreases in fuel consumption, greenhouse gas and other emissions and noise pollution. In 2042, 1 million 150 thousand tons / year will be told.
"Istanbul will be the fastest route between Sabiha Gokcen Airport on the European Side and the New Airport on the European Side, which will not affect the natural beauty and silhouette of the city. the integration it will provide between the airport is expected to contribute significantly to Istanbul's position in international air transport. " Expression, 3-storey Great Istanbul Tunnel Project in 2042, 2.8 billion euros in net benefits will be provided, he said.
VIDEO: THE FIRST PASSENGER TEST AT ISTANBUL NEW AIRPORT HAS BEEN FAILED
NTV Source link
Please follow and like us: